Oban
About
About this youth hostel ....
Surrounded by miles of beautiful countryside and dramatic coastline, this five star VisitScotland accredited youth hostel is within easy walking distance of the town centre and comprises two buildings - the original Victorian villa and a modern lodge to the rear. Both buildings offer high quality accommodation in private en-suite rooms and comfortable shared dorms, all with lockers and bedside lighting and many with sea views.

WiFi is free and other facilities include: a well-equipped self-catering kitchen, a comfy lounge with views over the Firth of Lorne an excellent drying room, laundry and secure cycle storage with bike washing facilities. Basic provisions, confectionery and soft drinks are available to purchase at reception.
The lodge is perfect for groups wanting their own space and can be hired separately from the main building.
The hostel is right on the seafront, close to the ferry port, and we're happy to accommodate guests catching early ferries to the islands.
Oban is a dog-friendly hostel. If you would like to book yourself and your dog into the hostel, please phone the hostel direct on +44 (0) 1631 562 025 to check availability. There is a small charge of £5 per night for your dog when staying in our hostels.
'Wee' and Full Breakfast available (Please remember to pre-book)  
The hostel is also available for exclusive private rental.


Why stay?
Seafront location with stunning views
Friendly team with expert local knowledge
Perfect base for island hopping
On the Caledonian Way Cycle route
Walking distance from all local restaurants, bars and shops
Dog Friendly and great for families
Licensed, serving local beers and wine
For more information on the hostel, accessibility and the local area please click here 
Oban Youth Hostel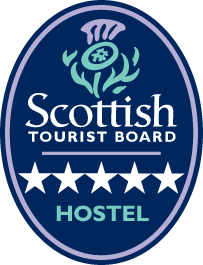 Guest Reviews
06/12/2023
Hostel manager and staff were extremely helpful and accommodating to our large party.
Guest Review
06/12/2023
I had a wonderful stay at the Oban Hostel ??! The building is beautiful, clean, warm, spacious, quiet and very comfortable! The staff are lovely, friendly, welcoming and very helpful and the breakfast is amazing…. fresh berries, yoghurt, muesli, toast, juice tea etc or a cooked breakfast. The views from the bedrooms and dining room are really beautiful, looking straight onto the harbour ( seafront location). A really beautiful place to stay … I don't think it could be better! It's pet friendly!
Janette
04/12/2023
A brilliant stay all round - comfortable rooms in a great location. Facilities superb and staff great!
Robert
30/11/2023
Lovely lady at reception. I'd made enquiry before as I was arriving quite late in the evening and a guy phoned me up about it and was very helpful. Great stay !
kirsty
27/11/2023
A fantastic hostel, I had never previously stated as it is my "local" hostel. However with a busy weekend planned in Oban/Lorn and road closures making my travel time significantly longer I booked a room. So glad I did. Everything was lovely and I had a restful time between busy days.
RL
24/11/2023
We had a very good time here, the view from breakfast's room is just...wow!!
Elise
23/11/2023
Excellent value for money in lovely hostel with spectacular views.
Joan
22/11/2023
Ideal location,
Guest Review
22/11/2023
This hostel is so nice you just want to stay inside all day instead of exploring the area. Bonus points for super comfy beds!
Solenn
20/11/2023
Met a friend in your Oban hostel that I hadn't seen for over 20 years. She just happened to be in the dorm I was in, but neither of us knew the other was there! That meeting led to a rather exciting couple of days! Fabulous! Big hearts!! That's the amazing part. I couldn't fault Oban hostel in any way, lovely friendly staff and comfortable beds and lovely dorm-mates that ended up coming with me on a tour of Oban, just to show them the place! Can I give Oban hostel six stars please??! ??
Emma
19/11/2023
First class hostel accommodation as usual. Room 101 seems to be my regular spot when I visit. Keep up the good work.
Guest Review
13/11/2023
From the friendly welcome onwards, we had a wonderful 2 night stay at Oban Youth Hostel. For £50 a night for a spacious, well equipped and clean 2 person room, with tasty breakfast and pack lunches for a very reasonable extra charge, it's tough to beat . And that's before you get to the lovely view of Oban bay from the hostel. We will definitely be back in future.
Martin
13/11/2023
I have been visiting Oban for many years now, and have always stayed at the Oban hostel. I have never had a bad experience in all this time. The facilities are always immaculate and available - and the staff are always friendly and helpful. Amazing place and i recommend highly. Thomas
Thomas Moffat
08/11/2023
Always a great experience staying here. The staff are welcoming and attentive to guests.
Happy for review to be read.
02/11/2023
I really enjoyed my stay at the Oban Youth Hostel, the staff were very friendly and welcoming. The hostel has everything you'd need.
Rakesh
29/10/2023
Best Youth Hostel l have ever been to. Absolutely beautiful.
J Montgomery
29/10/2023
Very comfortable hostel in dreamy location overlooking Oban bay. Nicely furnished and equipped lounges and dining areas with seafront views.
Catherine
25/10/2023
We had a last minute stay in the Oban youth hostel, due to an issue with the Mull ferry. Luckily a private room was still available on the day of arrival (as we are a family with a young child) and had a great time. Brought our small dog as well which was welcome in the hostel. the staff was great and friendly.
Gunda
24/10/2023
The staff here are amazing, very kind and caring. The rooms, linen and kitchen are clean and very comfortable. I stayed here twice on this trip and wouldn't hesitate to stay again. Special thanks to Ken for going above and beyond with his customer service.
Guest Review
23/10/2023
Excellent value for money. Lovely spacious room with ensuite and good kitchen facilities if needed. Very helpful and friendly staff.
Georgie
23/10/2023
We are very pleased in staying at Oban youth hostel . Our experience was good since our check in until our check out. Thanks to the staff ( Ken, Marta, ..) they are very helpful friendly and smily all time . The room was very clean, any thing you need if you like to feed your self or your family is there. We definitely will recommend it and we will come back again
Jamila/nadia
23/10/2023
Friendly staff Well equipped and modern hostel Enjoyed my stay and will returh
Paul Brownlee
21/10/2023
A very friendly hostel (both guests and reception), cosy and clean room, adequate kitchen facilities. would recommend.
Guest Review
21/10/2023
Good solid place to stay. Clean and good value.
R
19/10/2023
Very pleasant welcome from the young lady and throughout the stay. A good traditional style hostel
Guest Review
19/10/2023
Great hostel in a lovely location. Staff were all wonderful, thank you!
Guest Review
19/10/2023
Hostel has lovely waterfront outlook with constant interest due to the passing CalMac ferries, fishing boats and other pleasure craft.
Guest Review
19/10/2023
Excellent hostel... well appointed, well equipped and kept very clean. Great location.The staff are very friendly and helpful.
Guest Review
17/10/2023
Another great stay at Oban YHA. Such a great building and very comfortable. Friendly service from check in and from the chef! Very good twin room in the annex (first time there). The lounge and quiet room have been redecorated so well! Great views too!
JohnH
16/10/2023
Great location, facilities and welcoming staff
Guest Review
Reasons to visit
Oban is often referred to as the 'Gateway to the Isles'.
With regular ferries to the Inner Hebridean islands of Mull, Coll, Tiree or Iona, it's a great base if you intend to go island hopping!
But before you head off there's lots to discover in and around the town itself.
Nearby attractions include Oban Distillery, McCaig's Tower, St Columba's Cathedral and Oban War & Peace Museum. Famous for its local seafood, Oban boasts many good restaurants, bars and shops. For the more adventurous, scuba diving and sailing are available locally.
Find your sea legs with a short jaunt over to a neighbouring island - Kerrera - rugged and unspoiled and home to beautiful Gylen Castle. Visit McCaig's tower, a ten minute drive from the hostel with panoramic views across the Sound of Mull. Explore Easdale Island Folk Museum and get a fascinating insight into the history of slate mining in the local area.

Back to Top