Edinburgh Central
About
About this youth hostel ....
Edinburgh Central offers 5 star VisitScotland accredited hostel accommodation in the heart of the city, close to major transport links and ideally positioned for exploring Scotland's capital. The hostel offers a wide variety of private rooms and shared dorm accommodation making it a perfect base for couples, families and solo travellers looking to explore and enjoy Scotland's capital city on a budget. All rooms have en-suite facilities and individual lockers.

The hostel's welcoming and vibrant communal spaces are perfect for relaxing and socialising. Our Café Bar is open from 7am to 11pm daily offering a wide selection of delicious food and drink. WiFi is free for all guests and other facilities include: a small but well-equipped guest kitchen, meeting rooms, laundry, secure bike storage and a luggage store for anyone arriving early and eager to head off right away to explore the city!
The hostel is just ten minutes on foot from Waverley railway station, the bus station and close to York Place tram stop. Parking near Edinburgh Central is possible, with on-street Pay & Display spaces in the surrounding area and at nearby Greenside Car Park (contact the hostel directly for more information).
For more information on the hostel, accessibility and the local area please click here 
Edinburgh Central Youth Hostel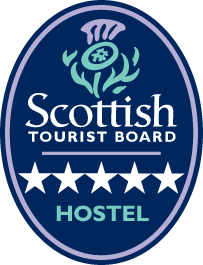 Facilities & Services
Reception Hours
Open 24 hours
Access Hours
We are happy to welcome you. Subject to availability: early check-in and late check out may be available for an extra £10 per room
Guest Reviews
07/12/2023
Comfortable mattress. Warm room. Good shower. Great location. 10- 15 minute walk to city centre or cross street to tram and bus stops and convenience stores. Staff helpful and cafe/bar next to reception.
.
07/12/2023
I had a comfortable stay here. The hostel was quiet and the staff were friendly and helpful. Communal areas were clean and well equipped.
Guest Review
05/12/2023
The hostel was in a great location and the staff were very helpful. We enjoyed breakfast one morning and found the self catering kitchen to be well equipped and a good size for cooking at the hostel. The games room and cafe bar were a lovely area. The social space downstairs was also a good space.
Guest Review
04/12/2023
Only stayed one night but can't fault anything. Place was super clean, beds comfortable, facilities great and staff really friendly and helpful. We had a restful night while visiting Christmas market which was within 15 minutes walk.
Family of 8 booked 2 rooms
01/12/2023
The hostel was well-located and had excellent facilities. It offered a cool atmosphere and a pleasant living room.
Guest Review
29/11/2023
Good value, pleasant stay, lovely breakfast, comfortable bed.
Guest Review
27/11/2023
Lovely hostel, good location and perfect for our group stay.
Northumberland Heath Rangers
26/11/2023
It was an SYHA hostel, it's always fine!
Guest Review
25/11/2023
Great place to stay - comfortable beds, a spacious room, plus water pressure worthy of a jetwash
Conor R
25/11/2023
Near the tram and bus, plenty of coffee shops nearby. Clean and simple rooms with great security. Nice and polite staff. Will stay there again next time for sure.
Ana
18/11/2023
We enjoyed our stay with you. The room was spotlessly clean, staff were friendly, helpful and professional.
Guest Review
17/11/2023
Lovely hostel that is easy to get to by tram. Very grateful that my late check-in was no problem.
Guest Review
12/11/2023
Great value accommodation for a group with all the facilities we needed, with a tram stop right outside.
Guest Review
11/11/2023
Comfortable, clean, friendly and helpful staff.
Guest Review
04/11/2023
Lovely hostel, more like a hotel, just outside city centre on the tram line. Clean, comfortable and quiet. Highly recommend
MR
02/11/2023
This is the 4th time I have stopped here, doesn't that say it it. Things are always very good, very clean , staff really friendly and all facilities excellent, I would always use this hostel if travelling/bike packing in Edinburgh.
Guest Review
01/11/2023
Great staff and hostel. Wonderful experience. The staff was phenomenal in helping and assisting. Breakfast was great. The hostel is a 10 - 15 min walk to most tourist and shopping areas.
Guest Review
28/10/2023
My stay at Edinburgh Hostel City Centre was fantastic! The value for my money cannot be matched. The tram stop is a two minute walk away, so getting here from the airport was a breeze! This hostel is perfect for individual travel, family, groups, etc.
Colin Kimball
27/10/2023
Fabulous. Great staff. Clean. Excellent location.
Guest Review
20/10/2023
Clean and freindly place.
Guest Review
19/10/2023
Comfortable, clean rooom. Enjoyed our visit.
Guest Review
15/10/2023
Warm, welcoming and perfectly located this hostel is great. The folks working there, Jess in particular, went above and beyond to help us with anything we needed. Have already booked our next stay.
Ali_n_Me.theworldofftosee
09/10/2023
Excellent in every way - what a location too!Ben F
Ben F
27/09/2023
Very comfortable rooms, great location.
Guest Review
21/09/2023
Quick and efficient book in on out. Amicable staff and facility. A problem arose and was positively solved. Great location.
Bernice
18/09/2023
A great place to explore Edinburgh from. Rooms clean, facilities and staff excellent.
Joe
04/09/2023
Staff very friendly and the room was clean. Good location - would stay again.
Jenny
03/09/2023
very happy with this hostel. Good location (right next to buses and a tram station), 25 minutes walk from the castle, restaurants and shops very close. Possibility to leave luggage before check in and after check out. Functional Private Room. We recommend
CL
02/09/2023
Great location and good facilities.
Sophie
31/08/2023
Very friendly and helpful staff, nice and safe atmosphere, no noise. Super location very close lap to the tram stop. Comfy beds. Excellent left luggage service.
I. Jiménez
Reasons to visit
More than just Scotland's capital city, Edinburgh is a UNESCO World Heritage Site and is home to one of the world's most famous summer festivals. One of the UK's most popular tourist destinations, Edinburgh boasts a plethora of world-class visitor attractions including a number which are free: the National Museum of Scotland, Royal Botanic Gardens, Scottish National Gallery, St Giles Cathedral, Scottish National Gallery of Modern Art and the Scottish Parliament Visitor Centre. Many attractions also offer regular free guided tours.
From film locations to museums and galleries, fantastic shopping, a vibrant nightlife and fine or relaxed dining - you can even climb Arthur's Seat, an extinct volcano! Add to this the spectacular surroundings of the majestic Lothians, or the opportunity to take a rail trip to the Scottish Borders, and you've got a recipe for an unforgettable break.
Whatever you're looking for Edinburgh has it in bundles and will have you coming back for more!
Some experiences not to be missed:
Sunrise from Arthur's Seat
The Forth Bridges and the new Queensferry Crossing
Underground streets of Mary King's Close
The Old Town and Royal Mile
Lunch in the Grassmarket
Royal Yacht Britannia
Palace of Holyrood
The Elephant House Café (famous from the Harry Potter films)
Take in a free performance at the 'Fringe Festival'
Whisky tastings!
Look out for free walking tours including: 'Old Town Tour ' and the 'Potter Trail' (muggles welcome).
Back to Top