Glenbrittle
About
About this youth hostel ....
Set in rugged scenery at the foot of the Cuillin Ridge, this homely hostel has a long tradition as a base for walkers and climbers, offering a mix of accommodation from private rooms to shared dorms, all with USB charging points and individual bed lights. Many of the rooms have mountain views and whilst none are en-suite, there are ample shower and washroom facilities available.

Other facilities include: a laundry, large drying room, public phone and secure bike storage for up to 10 bikes. Basic provisions, including frozen ready meals, confectionery and soft drinks are available to purchase at reception. Due to the hostel's remote location, there's no WiFi and very limited mobile signal.

Limited off-road parking is available in front of the hostel.
'Wee Breakfast' and 'Heat it and eat it' evening meals available (Please remember to pre-book your breakfast).  
The hostel is also available for exclusive private rental.
There are no public transport links to the youth hostel and the nearest bus stop is at Sligachan which is 15 miles away.


Why stay?
Fantastic location at the foot of the Cuillin Ridge
Spectacular mountain views
Friendly team with expert local knowledge
Perfect base for outdoor enthusiasts
Licensed, serving local beers and wine
For more information on the hostel, accessibility and the local area please click here 
Glenbrittle Youth Hostel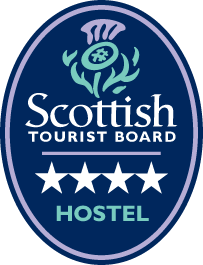 Facilities & Services
Season
April to September (RentaHostel available all year)
Reception Hours
07:30-10:00 and 17:00-21:30
Access Hours
Day access may be available. Please contact the hostel beforehand, but note that arrangements for this may only be possible at short notice and only confirmed on arrival
Amenities
Catering Available (Breakfast Only)
Free Parking (nearby or onsite)
'Heat it and Eat Meals' available
Free Tea and Coffee in Guest Kitchen
Guest Reviews
26/09/2023
Great place, wild and peaceful.
Dennis B
25/09/2023
Very good accomodation near Fairy Pool
Gabi
22/09/2023
Thank for all, we very enjoyed our night in these youth hostel!
Marine
19/09/2023
Hostel near the fairy pools, great place for hiking. Family atmosphere. Nice staff. We loved our stay
Alexandre
03/09/2023
Awesome hostel and atmosphere!
Guest Review
03/09/2023
Excellent pre arrival information. Efficient and friendly check in. Beds were really comfy. Kitchen had everything needed. Would definitely return.
Angela Terry
31/08/2023
Thanks to Michael for assisting and helping us find our second lovely hostel. Great costumer service.
Tea Cabrera
25/08/2023
Everything was great. Both of the hostel wardens were friendly, professional and very helpful.
Myles
25/08/2023
Loved the small hostel and gorgeous location as a base for exploring the Cuillin range and surrounds. Would highly recommend.
Nicola
20/08/2023
We had a really nice stay at Glenbrittle ! The hostel is really clean, the team is doing a great job to clean eveything everyday. The beds are confortable and the kitchen is well equiped. We were nicely welcomed and the team provided us with tips for hikes and history if the land. Thank you !
Flora
19/08/2023
Lovely helpful staff.
Guest Review
17/08/2023
Comfortable and clean, after a long day it was exactly what I needed!
Guest Review
15/08/2023
Very very nice place in an amazing glen of the isle of Skye ! The surroundings are marvelous, and the hostel is welcoming ! Special thanks to the staff and his hard work to keep the house so tidy and warm ! Everything was perfect, from the big dormitories to the spotless kitchen amazing to prepare any meal. Would recommend 10/10 !
Maël Rocher
14/08/2023
A nice and cosy place. The two persons in charge were really helpful and nice.
Marion
12/08/2023
Natasha and Michael were perfect hosts and made us feel very welcome, they also had great local knowledge and were very organised in running the hostel - everything was run like clockwork and we would certainly go back for repeat trips
Ruanuke
10/08/2023
As ever the two resident wardens are so friendly and helpful. Lovely to have been back there after 40 years last week and then back there again for a couple more nights.Such a lovely setting and swam again in the cascading pools just a stones throw from the hostel (but well below the water abstraction point which is clearly signed further upstream). I won't be leaving it anywhere near as long again to return there after checking out for the last time for this season on Sunday. Paddy
Guest Review
31/07/2023
Cadre idéal pour faire de la randonnée dans le coin.Seul inconvénient : le petit-déjeuner servi à 8h seulement, ce n'est pas possible quand on veut partir tôt en randonnée...
Moris Kevin
30/07/2023
Very good location
Michele
26/07/2023
Very cozy, lovely room with safe bunkbeds. Large and well equipped kitchen. We would have liked to have some cheese for breakfast. Very nice and welcoming atmosphere, friendly and helpful staff. We will return!
June
25/07/2023
Super expérience, super accueil. L'hôte est très drôle et aidant, l'ambiance est très chaleureuse et conviviale. On y dort bien. Le petit déjeuner est bon. Les équipements fonctionnent très bien. J'y retournerai volontiers !
Cecile
25/07/2023
The Glenbrittle YH is the best hostel I have ever stayed in. The staff are lovely, all areas are kept really clean, beds are comfortable. I am really excited to visit again.
Ondrej
24/07/2023
Perfect place to get away from it all - our 13 year old loved it, despite (or because of ?) the lack of WiFi.Lovely easy walk to the beach, peace, great views :-)
Marion
24/07/2023
We stayed for 5 nights and were very happy with the hostel. It had everything we needed to enjoy our scrambling course, despite the horrible weather.
Juliana
22/07/2023
Staff excellent. Great hostel.
Guest Review
22/07/2023
Absolutely brilliant hostel, very friendly welcome, place is spotless and I mean immaculate! Very well equipped kitchen and lovely sitting area and plenty dining space. Such a tranquil location - had the best stay and sleep everThank you
Michelle
16/07/2023
Staying in Glenbrittle was the best decision I made on this bike trip across the UK. Michael and Natalia were the warmest, most welcoming hosts I could have ever asked for. Helped me plan my further route, gave great tips, and just made me feel at home. The other travellers were very friendly and a great vibe as well. If you get the chance to stay with Michael and Natalia, do it! :)
Daniel Hermann
12/07/2023
A wonderful place for wanderers. There you have the real hostel feeling and the guests were quite fine. Because it is a verry small hostel it felt more like to be in a family. We had a great time there and Natalia and Michael were verry friendly. When we return to Scottland we would like to visit this place again.
Great location nearby the cuillins
06/07/2023
Great location for the mountains.
Guest Review
06/07/2023
Great location. Friendly and helpful staff. Great facilities and very clean.
Guest Review
05/07/2023
Thank you for an excellent stay, the hostel was great, the two wardens (whose names I unfortunately didn't write down) were superb, professional, friendly & always interested in what I was doing & whether my stay was up to standard, nothing was a trouble to them. The hostel has a fantastic facilities including an amazing drying room - which I had to make full use of! I would not hesitate to stay again.
Hicksy
Reasons to visit
One of Scotland's most popular destinations and home to twelve Munros, including the famous Black Cuillin ridge, Skye is the perfect playground for any ambitious experienced mountaineer.
For the less adventurous there are plenty of opportunities to take life at a more leisurely pace, experiencing the wildlife and natural beauty of Skye through a number of low-level and coastal walks to suit all abilities and weather conditions.
Skye is renowned for its dramatic landscapes but there's another side to the island which includes world-class restaurants, arts and craft studios, castles and crofting museums charting the tumultuous history of it's people from clan battles to the Highland Clearances. 
For those looking to capture a traditional taste of Scotland, the Talisker Distillery is only nine miles from Glenbrittle Youth Hostel.
Back to Top