Lochranza
About
About this youth hostel ....
Sitting in an attractive lochside village in the north of the Isle of Arran surrounded by hills, this four star VisitScotland accredited youth hostel offers a wide range of accommodation from comfortable private en-suite rooms to spacious shared dorms, all with individual lockers and bedside lights.
WiFi is free for all guests and other facilities include: a large, well-equipped self-catering kitchen, two cosy lounges, one with a TV and both with views over the loch, a laundry and drying room, secure cycle store for up to ten bikes and free onsite parking. The excellent washroom facilities are all equipped with hairdryers and basic provisions, confectionery and soft drinks are available to purchase at reception.
Lochranza is a dog-friendly hostel. If you would like to book yourself and your dog into the hostel, please phone the hostel direct on +44 (0) 1770 830 631 to check availability. There is a small charge of £5 per night for your dog when staying in our hostels.
'Wee Breakfast' and 'Heat it and eat it' evening meals available (Please remember to pre-book your breakfast). 
The hostel is also available for exclusive private rental.
For more information on the hostel, accessibility and the local area please click here 
Lochranza Youth Hostel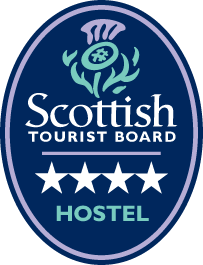 Facilities & Services
Season
April to October (RentaHostel available all year)
Reception Hours
07:00-10:00 and 17:00-21:30
Access Hours
Hostel opening times 07:00-22:00 and after 22:00 by keycard entry
Amenities
Catering Available (Breakfast Only)
Free Parking (nearby or onsite)
Free Tea and Coffee in Guest Kitchen
Guest Reviews
02/10/2023
Had a great stay with the rent a hostel, it's a great place and we all had a lovely time!
Guest Review
02/10/2023
Friendly, helpful staff. Great location. Lots to do.
Guest Review
28/09/2023
Great staff team, nice atmosphere and excellent location. If there is to be only one hostel on the island, this is the place for it.
Mumbles Head
23/09/2023
Good atmosphere. Staff contacted us as we were running late which was much appreciated. Ideal location with beautiful surroundings and access to ongoing ferry.
Martin
21/09/2023
Staff - Nathan especially and manager too - both helpful and friendly. Kitchen was very clean and well equipped. Spaces good for meeting others if you wanted to socialise.
Guest Review
17/09/2023
Really good stay and hostel was the only option for me at the price I wanted to pay.
Guest Review
14/09/2023
Great stay, thank you
Becky
12/09/2023
I stayed at Lochranza (with my dog) for two nights in September on my first visit to Arran. I am 65 and had not been to a hostel for years. It was wonderful. Friendly, interesting people. A beautiful setting. A place to cook and a place to read. Hikers, cyclists and sheep. Lovely hostel staff. An abundance of kindness.
Nicola Liu
10/09/2023
Very enjoyable stay, nice atmosphere and beautiful location. Affordable, traditional hostel experience.
Guest Review
09/09/2023
Great location and facilities. The warden was really helpful and we enjoyed our private room. Thank you
Peta
29/08/2023
Had a fabulous overnight stay in Lochranza with one of the best views ever from a youth hostel overlooking the castle and loch. Staff were great, very friendly and helpful. Clean room, and well provided for. The wee breakfast was great. Will definitely be back, thank you
Claude
28/08/2023
I stayed for a week in arran. Staff were all lovely folk and had plenty of advice and info about the island
R
28/08/2023
Great hostel, just what was needed
Guest Review
23/08/2023
Very friendly and helpful staff, relaxing atmosphere and excellent location
Guest Review
21/08/2023
We had a fabulous time at Lochranza. Staff and fellow guests couldn't have been kinder and more helpful. The hostel is in stunning location, it's a great base to explore the many delights Arran has to offer and we could happily spend anothee afternoon staring out at the view from the the lounge window, mesmerising even in the pouring rain.
Megan Morrissey
20/08/2023
Really great place to stay. So clean and warm. Chris the manager was welcoming and helpful.
Ruth
16/08/2023
We loved the hostel and will return. The location is fabulous, Arran is fabulous and generally the hostel atmosphere was warm and welcoming.
Pauls
14/08/2023
Great location, good facilities. Bike store was useful.
Kay
11/07/2023
Good place to stop one night on a bike packing tour
Guest Review
11/07/2023
Good location and hostel was very clean. Close to ferry to Claonaig and local community pub and restaurant.
HazelG
09/07/2023
Great place in beautiful location, very comfortable en suite room and comfy bed. Can't wait to come back.
Bev
29/06/2023
Lovely hostel. Staff couldn't be more helpful and cheery!
Pseudi
26/06/2023
Friendly hostel in beautiful location. Big bathroom, comfortable bed.
Guest Review
18/06/2023
Great Hostel in a great location. Ideal for the budget traveller.
Chris Ranner
17/06/2023
Wonderful hostel, great location overlooking the sea loch, very peaceful, stag visited the hostel grounds early evening, very helpful staff, good spaces for relaxing in, and excellent kitchen facilities with a large range of cooking equipment and utensils available. Highly recommended.
John W
15/06/2023
Great spot. All good.
Guest Review
13/06/2023
Great for low budget travellers to enjoy the beauty of Arran.
Sebastian Braden
10/06/2023
My only regret is that I didn't stay longer. The hostel is so lovely and the staff at the desk were friendly and knowledgeable about the area. I look forward to returning!
Robin
06/06/2023
Great 2 night stay in extremely comfortable hostel. Made very welcome by Nathan.Excellent location on coast in Lochranza. Lots to see and do. Enjoyed hostel breakfast and use of well equipped kitchen. Slept very well in 2 bed en suite room. There is a large lounge with lots of of space to relax and great views over the bay.Coastal and mountain walking and biking.Saw otters, seals and a golden eagle! Will be back.
Vanita
31/05/2023
Excellent hostel good facilities good staff and beautiful location.
Frank hughes
Reasons to visit
Often referred to as Scotland in miniature, Arran is a popular place to enjoy the great outdoors with a number of activities on offer including hill walking, mountain biking and cycling, pony-trekking, fishing, golfing and water sports. 
The youth hostel sits on the Cock of Arran trail, a beautifully scenic low level trek offering stunning views of the surrounding area. The hostel garden is a great spot for local wildlife. Regular visitors include red deer, red squirrels and golden eagles, with grey seals and otters often seen in the bay.
The local deer that populate the hillsides surrounding the youth hostel can often be found wandering across the beach close to the hostel after dark.
The hostel is within easy walking distance of the local Lochranza Distillery which offers a range of tours and even the chance to sample a wee dram!

Back to Top