Torridon
About
About this youth hostel ....
This award winning youth hostel sits on the NC500 at the head of Upper Loch Torridon and is a popular base for hillwalkers, climbers and those simply wishing to relax and enjoy the surroundings and local wildlife.

The hostel offers a wide range of comfortable accommodation from private rooms to spacious shared dorms all with private lockers (please remember to bring your own padlock). None of the rooms are en-suite but there are ample shower and washroom facilities available.

WiFi is free for all guests and other facilities include: a large well-equipped self-catering kitchen, a large lounge with panoramic mountain views, a large drying room and laundry. There is no dedicated bag storage facility at the hostel but the team will be happy to store bags in reception if there is space available. Basic provisions, confectionery and soft drinks are also available to purchase at reception.
There's onsite car parking for around 20 cars or 1 coach and a secure bike store for up to 20 bikes.
Torridon is a dog-friendly hostel. If you would like to book yourself and your dog into the hostel, please phone the hostel direct on +44 (0) 1445 791 284 to check availability. There is a small charge of £5 per night for your dog when staying in our hostels.
'Wee Breakfast' and 'Heat it and eat it' evening meals available (Please remember to pre-book your breakfast). 
The hostel is also available for exclusive private rental.

Why stay?
Award Winning Youth Hostel
Fantastic setting with panoramic mountain views
Perfect base for outdoor enthusiasts
Friendly team with expert local knowledge
Dog friendly
Licensed, serving local beers and wine


For more information on the hostel, accessibility and the local area please click here
For more information on the hostel, accessibility and the local area please click here 
Torridon Youth Hostel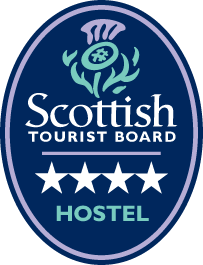 Facilities & Services
Season
March to October and available for exclusive private hire from November to February. If you would like exclusive use of the hostel during the peak season please contact us direct on 01445 791 284
Reception Hours
08:00-10:00 and 17:00-22:00
Access Hours
Late check in available by prior arrangement. The hostel is closed between 10:00-14:00 for cleaning - an entrance lobby, access to a toilet is available for early arrivals.
Amenities
Free Parking (nearby or onsite)
Access with limited mobility
Guest Reviews
27/11/2023
Fantastic stay as a big group. What a perfect location for a get together. The wardens were extremely accomodating and friendly - thanks!
Guest Review
30/10/2023
Superb, friendly and efficient staff who are always helpful. A beautifully presented youth hostel in a breathtaking setting.
Sheffield Peter
28/10/2023
Outstanding in every way. The staff are amazing and really go out of their way to make you feel comfortable. We visit every year. A little gem. Thank you. Craig
Guest Review
26/10/2023
Torridon is an amazing hostel and we love coming here, 4 times and counting. The staff are super friendly and accommodating. The atmosphere is lovely, with nice rooms, common room and kitchen. It is quiet and the solid walls mean sound doesn't travel. Perfect location.
Richard
24/10/2023
Superb location and spacious accommodation. We loved the lounge.
Katie
23/10/2023
Lovely hostel in perfect location. Friendly and helpful staff. Really enjoyed short stay.
Kenny
21/10/2023
Utterly surprising. Just brilliant. Views stunning, YH team couldn't have done more to help us. A wonderful much needed escape from the city. We'll be back!
N/A
20/10/2023
Really enjoyed my stay at Torridon. A great base for five days of hillwalking. Drying room was very effective and welcome on the wet days. Kitchen was clean, tidy, spacious and well equipped. Staff were friendly and helpful, and took the time to ask about my solo walking plans each day - thanks.
David P
20/10/2023
An absolutely lovely stay. All staff encountered were extremely welcoming, friendly and very helpful. The hostel was spotlessly clean and the bunks were very comfortable with fresh smelling and clean bedding. The self serve kitchen is really well equipped and all communal areas are very comfortable.
Keithent
10/10/2023
Great hostel with stunning views.Spacious, homely hostel with great kitchen, dining room and lounge. The hostel is set in an ideal location for exploring the nature reserve and surrounding areas. Staff are friendly and helpful. Parking onsite. I will definitely stay here again if I return to the Highlands.
Guest Review
06/10/2023
Good location, clean and decent breakfast. Kitchen seemed good as well.
Andrew Simpson.
28/09/2023
I was part of a hill walking group - 19 guests in total. It was a while since a few of us had booked into the hostel. The hostel remains excellent. Difficult to fault and the staff were very welcoming and friendly.
Guest Review
27/09/2023
Superb hostel, big but very friendly, great facilities, amazing views and the friendliest staff
Sarah walker
26/09/2023
Loved all of our stays at Hostelling Scotland hostels. The facilities are excellent and well heated (warm drying room, cycle storage, large and well stocked kitchen and comfortable lounge with plenty of games, spacious and clean dorms) and also well decorated with plenty of maps and mountain sceneries to inspire your adventures. But above all, the staff are super friendly and willing to go above and beyond to help you out and welcome you in at the end of a long, wet day in the Highlands.
Fiona
24/09/2023
We stayed two nights in a private room. The beds were comfy and the room clean and warm. The showers and kitchens were of a high standard and very clean. The fridges are the cleanest of any hostel I have stayed in.The drying room was much needed with plenty of room.The location was great and could walk around the shore line and to the nearby bouldering area.
Ms Jones
23/09/2023
Excellent friendly hostel, would definitely recommend!
Peter J
21/09/2023
Brilliant location and excellent facilities - I had en suite in the dorm room, which was an unexpected surprise! Very friendly and helpful staff, can't fault anything!
Guest Review
21/09/2023
Great facilities with friendly, helpful staff. It's a large hostel that still manages to maintain a cosy atmosphere.
Cliche Guevara
19/09/2023
A welcome return to one of my favourite hostels after my previous visit was curtailed thanks to lockdown. A lovely sunny day on Beinn Eighe enhanced the experience
Bob
19/09/2023
Friendly hostel in a great location. Very well equipped kitchen. Good facilities, lounge is comfortable and with a great view. Lots of extras such as games & books. Reception has everything you need if you're travelling light. Five star plus hostel!
Fiona
18/09/2023
Extremely comfortable and well appointed hostel.The Panorama Lounge was a really pleasant quiet area in which to spend a rather rainy evening.
Mari Beynon Owen
18/09/2023
Staff were all so friendly, and the location is amazing. The view from the lounge is spectacular. I watched white tailed rabbits run around in the morning, and deer roam at night.
Guest Review
17/09/2023
An absolute gem in a stunning location for those who are happy to embrace the hostelling ethos. Staff super friendly and helpful. We will be back!
Ferg
07/09/2023
Hostel is perfectly placed to explore the area. Great place to stay.
Claire
04/09/2023
Wonderful hostel and amazing setting
Guest Review
04/09/2023
The hostel is lovely. A great place to stay in a great location. We will be back.
Ian Bonnell
03/09/2023
Thank you it was a great stay, the member of staff at reception was super helpful. I'll definitely be back.
Guest Review
01/09/2023
Excellent in all areas. Especially the staff I encountered were extremely helpful, pleasant and knowledgeable.
Roz
31/08/2023
Absolutely wonderful thanks. Loved the living room and spacious well equipped kitchen
Guest Review
26/08/2023
Beautiful location, very welcoming staff. Callum was very lovely and helpful. The place is clean and well organised.
Amanda R
Reasons to visit
Occupying a hidden corner of the North West Highlands and sitting on the famous North Coast 500, Torridon boasts some of the finest scenery in Europe and is a haven for hillwalkers and mountain bikers. Whether you're scaling the heights, biking the trails or walking the coastal paths, the Torridon area has something for everyone.
We're on the North Coast 500 driving route! Say goodbye to piles of leaflets by downloading the NC500 App or find out more about the local area with this handy PDF guide to Wester Ross.
Head off the well-beaten track of the NC500 and discover a true taste of Scotland's North West Coast. For many visitors to Wester Ross, Torridon and Sheildaig are as far as they get. The road from Torridon to Diabaig, though less travelled, is definitely one not to be missed. The single track road is only a few miles long but it's almost traffic free and offers some of the most stunning views in Scotland.
Discover the local wildlife on the Beinn Eighe National Nature Reserve and National Trust for Scotland Estate or sample freshly caught local seafood while sitting back and soaking in the stunning scenery.
With so much to discover in the area our team will be happy to share their local knowledge, making sure you get the most out of your trip to this relaxing corner of Scotland's North West Highlands.
Check out our Torridon Webcam to see what the youth hostel looks like today! http://bit.ly/TorridonWebcam
Back to Top