Aviemore
About
About this youth hostel ....
A short walk from Aviemore town centre this four star VisitScotland accredited Youth Hostel is a popular choice with outdoor enthusiasts and offers a perfect base for activity groups, families and solo travellers looking for great value accommodation and all year-round adventure.

The hostel offers a wide range of comfortable private rooms and shared dorms. WiFi is free for all guests and other facilities include: a bright and spacious lounge area with woodland and mountain views, TV and pool table, a large self-catering kitchen, a drying room, laundry, private lockers, secure bike storage and ample onsite parking.

The hostel also hosts a Scottish Natural Heritage visitor centre, with Peregrine nestcam and helpful information about Craigellachie National Nature Reserve.
'Wee Breakfast' available (please remember to pre-book) 
The hostel is also available for exclusive private rental.


Why stay?
Great location in Cairngorms National Park
All year round resort
Plenty of activities and attractions on the doorstep
Walking distance from local shops, restaurants, cafés and bars
Friendly team with expert local knowledge
Licensed, serving local beer and wine 
For more information on the hostel, accessibility and the local area please click here 
Aviemore Youth Hostel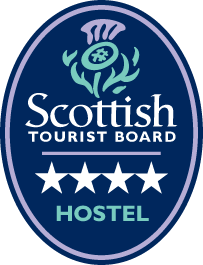 Facilities & Services
Reception Hours
07:00-22:30
Access Hours
Late arrival and access available outside opening hours by pre-arrangement only
Amenities
Access with limited mobility
Free Tea and Coffee in Guest Kitchen
Free Parking (nearby or onsite)
Conference/Meeting Facilities
Guest Reviews
08/12/2023
Pretty much the perfect venue & location for outdoor activities in the Cairngorms. The staff have perfected the art of having a light touch when it comes to managing the hostel. Definitely stay there again.
Guest Review
06/12/2023
Lovely receptionist who gave me great advice. Facilities were clean and kitchen was super accessible to make food for dinner and breakfast.
Y
05/12/2023
The hostel in Aviemore is a great place to stay - welcoming, plenty of space for everyone to spread out, and great cooking space. Very easy to contact and helpful regarding our late check in!
E Smith
05/12/2023
We had a very nice stay at your hostel.
Guest Review
04/12/2023
Always good, great staff, clean, tidy, warm, a great facility located in a fantastic place which importantly is accessible by public transport. Great value for money... keep up the good work.... Tredders
Tredders
01/12/2023
The hostel is well situated for amenities like shops and restuarants and also for transport - train station and A9 both close. It's also well sited for access to the mountains and other leisure facilities. It's a modern well-planned building and the staff are friendly and helpful. I've been several times before and will be coming again.
John Clements
27/11/2023
Great value, a cosy and friendly place to stay for a winter weekend.
Caz
26/11/2023
Stayed at Aviemore hostel several times in November during a walking/bothying trip.Five stars on every count but the staff are the making of the hostel experience and I can,t praise them enough.
Guest Review
19/11/2023
Excellent hostel in great location, large kitchen and dining area. Nice touch to have free tea and milk with hot water ready.
Angus
17/11/2023
Clean comfortable with a big warm lounge area.
Darryl
16/11/2023
Loved every about this hostel. Kind and friendly staff. Great location. Cozy lounge.
Guest Review
14/11/2023
Amazing lounge area with fantastic views + other really good communal spaces! Everywhere clean, tidy and welcoming. Great staff - not intrusive, just about and friendly. Such a wonderful mix of guests! I had a brilliant time. Thank you. Julie T
Julie T
13/11/2023
Excellent stay. Friendly and helpful staff, everything was very clean, nice lounge area, and there is also bike storage!
Paula
11/11/2023
Needed to stay 1 night in Aviemore.Staff were friendly & very helpful - excellent service. Whole place, inc kitchen was well organised, warm, clean & comfortable. Breakfast was ample and very reasonably priced. Highly recommended
Rob
06/11/2023
Great location, lovely, friendly staff and a funky lounge area.
Gavin
01/11/2023
First time ever using Scottish Hostelling! Joined for annual membership immediately afterwards
Simon
30/10/2023
We've been taking our university group to Aviemore Youth Hostel for a number of years now. The hostel is well situated and provides a comfortable base for us. The staff are great - friendly and really helpful - and the catering they provide is excellent.
Alex
27/10/2023
Aviemore YHA is perfectly situated for exploring the Cairngorm National Park. There are hourly buses into the heart of the mountains. The YHA is a 5 minute walk from the station. The kitchen and lounge are clean and well appointed for nights in!
ArnoldCook
24/10/2023
Beautiful surrounding, warm and very comfortable accommodation with great facilities. cleanliness was outstanding and the staff were very friendly. Will definitely be back!
Angie Martin - Liverpool.
19/10/2023
Everything was good, easy check in, great location, good breakfast, good kitchen facilities, helpful staff, clean, tidy, cheerful, and good local information. Just right for what we wanted.
Guest Review
17/10/2023
Great hostel. Very helpful staff. Great location.
Seumas
17/10/2023
Great hostel! Staff were friendly and helpful. Fantastic location, amazing lounge!
Chris
16/10/2023
Great value, great location, great staff
VM
16/10/2023
As a member of Mountaineering Scotland I knew that I had some discount, so I decided to book a 4 pax room to spend the night with some friends. Very good facilities and good value.
Guest Review
16/10/2023
As a permanent wheelchair user I found this hostel extremely accessible and comfortable the staff were exceptionally knowledgeable and professional
Lynn
15/10/2023
Our second experience with Hostel Scotland (first in Edinburgh). Well linked to walk paths & lochs, helpful staff, very clean place; met lots of lodgers, shared many stories and learnt great travel catering tricks. Great value and will continue to explore other Hostel Scotland.
Hilda
12/10/2023
Great place, warm , clean and friendly
Guest Review
10/10/2023
Very comfortable hostel, all necessary facilities and spacious lounge room
Patricia
09/10/2023
Stayed at SYHA Aviemore a number of times. Always good. This time even better : perfect.
Guest Review
09/10/2023
Great location, spacious lounge and seating area. Good amenities in the self catering kitchen. Staff friendly and v helpful
Guest Review
Reasons to visit
Aviemore Youth Hostel sits within the Cairngorms National Park, voted one of the top 20 places to visit in the world by National Geographic Traveller Magazine. The park, in the heart of the Scottish Highlands, has something for everyone - from castles and distilleries to family attractions, water and snowsports, wildlife watching, and some incredible high and low level walking and cycling routes. 
Visit the Cairngorm Reindeer Herd, sample a craft beer at the Cairngorm Brewery, discover Loch Morlich and the highest sandy beach in Britain and explore the Craigellachie National Nature Reserve.
Aviemore is the perfect location for families, groups and outdoor enthusiasts.
Back to Top