Tongue
Tongue Hostel is a magnificently situated stone lodge on the shores of the Kyle of Tongue. Once a former hunting and fishing lodge dating back to 1891, the hostel offers wonderful views of Ben Loyal, Ben Hope and Rabbit Island. A short walk from Tongue village, it's a perfect place for hill walking, cycling, fishing, photography, nature and bird watching with plenty of beaches to explore.
Tongue Hostel is relaxed, friendly and beautifully furnished. There are large spacious bedrooms (including private and family rooms), a well-equipped self-catering kitchen with excellent cooking facilities and a small drying room. Camping facilities are also available on-site.
Local attractions include Castle Varrich ruins which overlook the Kyle of Tongue, Strathnaver Museum and Trail in Bettyhill and Cape Wrath in Durness. The atmosphere of this remote area is quite special. To truly leave the hustle and bustle of life behind, you must escape to the edge of Scotland.
For more information contact +44 (0) 1847 611789, email kothostelandhp@btinternet.com or go to our website.
Tongue Youth Hostel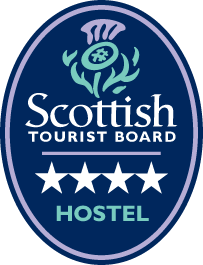 Facilities & Services
Amenities
Suitable for wheelchair users with assistance
Reasons to visit
Set on the shores of the Kyle of Tongue, with views over Ben Loyal, Ben Hope and Rabbit Island, Tongue Hostel is perfectly located for anyone looking to explore the famous North Coast 500. 
A peaceful and very relaxing location boasting spectacular views and fine sandy beaches, it's a great base from which to explore the surrounding countryside.
Quiet roads make it ideal for cyclists and its proximity to numerous Munros makes it perfect for hillwalkers. The surrounding countryside is a haven for wildlife and popular for fishing and bird watching.
Spectacular beaches, challenging peaks and beautiful scenery - what more could you want?

Back to Top